May 19 2019
This one is for the girls! Years ago I used to do all the grad cards in the various school colors. Then for years I switched it up to all black and white cards, suiting either gender from any school. This year we only needed four grad cards for girls from our church, so I decided to go totally girlie this year. And I loved it! I had so much fun making these very small money holders with beautifully scripted verses from scripture and lovely floral papers. Take a look:
All four are the same. I just used different papers from the same paper collection, Bloom by Graphic 45, different scripture verses (all from the same set) and coordinating ink colors.
These measure 4.25″ high x 3″ wide, so they are quite small (instructions further down).
The fishtail banner does extend beyond the 3″ width.
Here's a closer look at the two pink cards.
Quick and easy to make, with a message worth conveying, and pretty, too.
Likewise, all four of the insides are basically the same, too.
The cash or check slips into the slanted pocket opening.
To make this money holder:
Cut cardstock 4.25″ x 9″.
Score at 3″ and 6″.
Fold both outer sections inward.
Cut an angle off the top of the 3rd section so it forms the pocket angle when folded in.
SAVE the angled piece you cut off the card.  This becomes the template for what you need to cut off the designer paper rectangle to place over the angled cardstock section.
Use Scor Tape to secure your pocket down.
Insert cash or check and you are ready to go!
There is plenty of room to sign the card and write a personal message on the left inside.
Please Note: The card above has a strip of purple. The only reason being, I made a mistake and cut my paper too small, so added the 1/8″ strip of purple to fill in the gap, and whose to know!  I actually kind of like it!
Give these a try. They were sure fun!
Products used:
Stamps: Scripture for Graduation & Beyond by Stamp Simply Clear Stamps
Dies: Fishtail Sentiment Banners by Stamp Simply Clear Stamps

A2 Stitched Banners and Rectangles by JustRite (stitched circles)
Paper: Bloom by Graphic 45 – 8×8
Embellishments: Enamel Dots
Adhesives: EZ Runner, Scor Tape, 3D Foam Squares
Scripture for Graduation & Beyond
This set is perfect for not only graduation cards, but also for cards for so many other life events.
Encouraging words from scripture are the perfect way to send wishes for a job well done and new endeavor ahead.
This set can be purchased individually OR as a bundled DUO with our popular Graduation Sentiments.
Find ALL Stamp Simply Clear Stamps/Dies here and SAVE by purchasing the combo offers.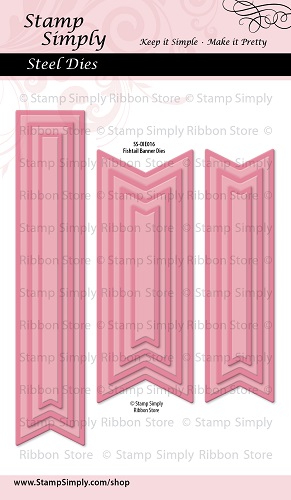 Fishtail Sentiment Banners steel dies by Stamp Simply Clear Stamps
This is a set of 10 nested fishtail sentiment banners designed specifically to fit the variety of sentiments included in our Stamp Simply Clear Stamp Sets.
This wonderful variety of sentiment banners will, of course, work so well with sentiments from other manufacturers as well, the BIG PLUS being that a total of 10 dies are included, so you'll be sure to find just the size you need! These dies make GREAT embellishments for your projects, too!
Bloom by Graphic 45 – 8×8 shown
Also in stock are the Ephemera Card packs and the Chipboard Die Cut Tags.
Yes, this is definitely another one of those 'oh, be still my heart' paper collections – just GORGEOUS!
Find all items in stock from Graphic 45 here – much is reduced!
All items available at The Stamp Simply Ribbon Store, as linked.
_____
CURRENT SPECIALS
View items in our Patriotic category here – 25%+ OFF ALL
Altenew – Stamps/Dies/Ink – 25%-30% OFF!
MOST Graphic 45 – REDUCED!
MOST Kaisercraft papers  – 25% – 50%+ OFF
Our Sale Bins are filled to overflowing – check them out for some GREAT deals!!!
Our Stamp Closeout Sale – GREAT PRICES!

All Spellbinders products always reduced – dies and embossing folders.
_____
View items in our Christian/Scripture category here.
View items in our Masculine category here.
View items in our Graduation category here.
View items in our Patriotic category here – ON SALE!
Find ALL Stamp Simply Clear Stamps/Dies here.
_____
If you are new to us, WELCOME! Here are some ways to keep in touch:
FIND US HERE
Follow us on PINTEREST for tons of inspiration!
Like us on FACEBOOK for the latest news!
Check us out on INSTAGRAM.
Sign up for our email NEWSLETTER published once or twice a month.
READ our latest NEWSLETTER HERE.
Subscribe to this blog using the Feedly,  Bloglovin or Feedblitz links at the top left sidebar.
_____
Thank you for joining us today.
We'll be back each day to give you some more fun filled inspiration!
We'd LOVE to have you scroll down to see all the beautiful work by our very talented Design Team.
Have a great and Blessed Sunday!
_____
2 responses so far
2 Responses to "Graduation Money Holders – by Sharon Johnson"