May 09 2020
$2.50 shipping within the US – Current Shipping Special!
Good Saturday morning! Jill is here today sharing two fun cards she made with our Stick Family Release. The first is a darling Mother's Day card and the second is a card to thank a nurse. We are also sharing some tips and tricks for creating fun hairdos on this family. Take a look:
How absolutely SWEET for Mom on Mother's Day.
Mom and her two kiddos are so darn cute!
I am loving the hairdos Jill created on them all.
And the sentiments are just perfect!
_____
Jill's second card today is to thank a nurse – truly, they ARE our heroes – along with so many others.
Jill drew on the nurses cap and hair. Too, too cute!
Jill did her coloring on both cards with Copic markers.
_____
This is Jill's practice sheet as she was deciding which kind of hairdos would work for  her.
She has a lot of fun options here and has a TIP to share with you:
 TIP: Lightly draw the hair with a pencil, then complete it with a black sharpie.
Note that in several instances Jill turned the top of the head into a head band – how fun.
Great tip and love all the samples Jill provided!
Earlier in the week Esther shared a tip on how to create hairdos by not stamping the head completely.
TIP: To create more realistic hairdos (especially on the ladies/girls) don't stamp the complete top of their heads, but only as high as their eyebrows, and then use a black sharpie to finish them off with your selected hairstyle.
I LOVE that tip – so very helpful!!!
Holly created this family by stamping the head fully and just running with it, drawing in her hairdos using a black fine point Sharpie.
Super darling, super easy!
Dad's hair cracks me up – LOL!
Thanks, Holly!
For these two kiddos I used a black fine point Sharpie to draw on hats.
I did stamp both heads fully. Had I wanted to color the baseball cap a lighter color, it would work better to stamp his head  up to a bit above the eyebrows only.
Deb created this couple where she added a mustache and beard to Dad.
She fully stamped both heads and added a headband to Mom.
The coloring was done with Copic markers.
So fun to create anyone at all!
Thanks, Deb!
Hope these ideas and tips help you to use your new Stick Family stamp sets!
_____
Now, let's get back to the supply list for Jill's cards today.
You can find Jill's post on her blog here.
Jill used:
Stamps: Stick Family and Stick Family Sentiments by Stamp Simply Clear Stamps
Paper: Cardstock – White, Various colors
Embossing Folder: Find folders here (Darice) and here (Spellbinders ON SALE!)
Ink: Memento – Tuxedo Black (images colored with Copics)
Ribbon: May Arts 1/4″ Silk – Gray
Adhesives:  3D Foam Squares, EZ Runner
Stick Family and Stick Family Sentiments by Stamp Simply Clear Stamps
A fun set for the whole family – to make, to give, to receive!
Each set is available individually or bundled.
Find ALL Stamp Simply Clear Stamps/Dies here.
All items available at The Stamp Simply Ribbon Store, as linked.
_____
SPECIALS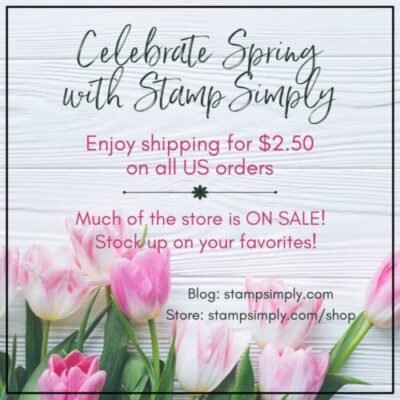 We are spring cleaning, thinning out and reorganizing so we have MUCH on sale right now.
Coupled with just $2.50 US shipping it's a great time to shop!
Based out of our rural Upper Michigan home we are open and SHIPPING DAILY.
_____
Here are some more products to check out:
25% OFF our 5 most popular Easter sets
_____
Shop our SALE BINS here for some unbelievable deals.
Find ALL Graphic 45 paper in stock here – 40% OFF!
MOST Kaisercraft papers  – 25% – 50%+ OFF!
Find ALL CHRISTMAS PAPER in stock here – 30%+ OFF!
Find ALL Tim Holtz DISTRESS Products in stock here – 25% – 50% OFF!
Find ALL Closeout Stamps here 50% OFF – including Altenew.
Find Spellbinders Die D-Lites here – 50% OFF – many as low as $5.00.
  All Spellbinders Products always reduced — find all Spellbinders dies here.
_____
We are pleased to offer our line of Stamp Simply Clear Stamps and Steel Dies,
many containing scripture and encouraging, uplifting Christian themes.
Find ALL Stamp Simply Clear Stamps/Dies here.
Find Christian/Scripture themed products here.
View items in our Love/Wedding category here.
View items in our Masculine category here.
View items in our Graduation category here.
View items in our Patriotic category here.
_____
If you are new to us, WELCOME! Here are some ways to keep in touch:
FIND US HERE
Follow us on PINTEREST for tons of inspiration!
Like us on FACEBOOK for the latest news!
Check us out on INSTAGRAM.
View our YouTube Channel here.

Sign up for our email NEWSLETTER published once or twice a month.
Subscribe to this blog using the Feedly, Bloglovin or Feedblitz links at the top left sidebar.
_____
Thanks so much for stopping in.
We hope you are enjoying our Stick Family. We'll have more cards with these sets interspersed with other card types over the next few weeks.
We'd LOVE to have you scroll down to see all the beautiful work by our very talented Design Team.
Wishing you a wonderful weekend!
No responses yet