Sep 05 2020
Good Saturday morning on this Labor Day Weekend.
I spotted another of Esther's journal pages and just had to share it here. This page focuses on the faithfulness of God and how our trust must be in Him, not in things of this world. Take a look:
A beautiful page in such pleasing and serene colors.
It always blesses my day when I see one of Esther's beautiful pages and stop for just a minute to read her blog post. I encourage you to do the same – it is a few minutes very well spent.
You can find Esther's post and her encouraging words here.
The scripture is from our Blessings & Beatitudes Set 1.
The lovely die cut wreath was created using the sprig dies included in our Floral Cluster & Sprigs die set.
Such a lovely, uplifting and encouraging page!
Thanks, Esther!
_____
Esther used these items from our store:
Stamps: Blessings/Beatitudes 1 by Stamp Simply Clear Stamps
Dies: Floral Cluster & Sprigs by Stamp Simply Clear Stamps
_____
These are both sets in our Blessings/Beatitudes series.
Esther used Set 1 today.
Available individually or bundled.
Wonderful sets to add to your collection of scripture stamps.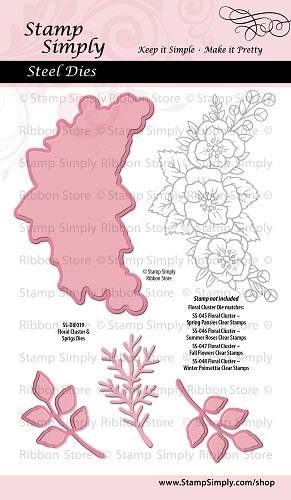 Floral Cluster & Sprigs die set by Stamp Simply Clear Stamps
This set not only cuts out the floral clusters from all 4 stamp sets in our Floral Cluster Series, but it also offers some fun smaller sprigs to add some additional greenery to your projects, as Esther did today.
Click the link above to see all 4 of the stamp sets in this series.
Items available at The Stamp Simply Ribbon Store, as linked.
_____
We are pleased to offer our line of Stamp Simply Clear Stamps and Steel Dies,
many containing scripture and encouraging, uplifting Christian themes.
Find ALL Stamp Simply Clear Stamps/Dies here.
Find Christian/Scripture themed products here.
View items in our Love/Wedding category here.
View items in our Masculine category here.
View items in our Graduation category here.
View items in our Patriotic category here.
View items in our Autumn category here.
View items in our Christmas category here.
_____
If you are new to us, WELCOME! Here are some ways to keep in touch:
FIND US HERE
Follow us on PINTEREST for tons of inspiration!
Like us on FACEBOOK for the latest news!
Check us out on INSTAGRAM.
View our YouTube Channel here.

Sign up for our email NEWSLETTER published once or twice a month.
Subscribe to this blog using the Feedly, Bloglovin or Feedblitz links at the top left sidebar.
_____
Thanks so much for stopping in.
We'd LOVE to have you scroll down to see all the beautiful work by our very talented Design Team.
Wishing you a wonderful long weekend ahead!
_____
No responses yet