Oct 18 2020
Good Sunday morning to all!
I am sharing another of the beautiful pages Esther created for her devotional journal. The theme of this page focuses on our never ending need to stay focused on the things of God as opposed to things of this earth. As always, Esther's mini study included is well worth the read and it includes the lyrics to a song I was not familiar with. I so look forward to her journal posts and I think you'll enjoy this one, too!
This page is so fresh and crisp with the yellow and black – I love it!
Esther's mini study reflects on how easy it is to become entrapped with the things of this world.
You can find Esther's journal page with mini study/devotional here.
To create this floral cluster Esther embossed it in white on black cardstock and then added just a bit of color with Prismacolor pencils – a fun alternative for a change!
The black is a stunning compliment to the yellow upon which the scripture verse is stamped.
So gorgeous and thought provoking. Thanks so much, Esther!
_____
Esther used these items from our store:
Stamps: Blessings/Beatitudes 1 by Stamp Simply Clear Stamps (scripture)
Floral Cluster Fall Flowers by Stamp Simply Clear Stamps (floral)
Dies: Floral Cluster Fall Flowers by Stamp Simply Clear Stamps (floral)
_____
Blessings/Beatitudes 1 and 2 by Stamp Simply Clear Stamps
Esther used Blessings/Beatitudes 1 today.
This is such a beautiful complimentary pair of stamp sets. Verses taken from The Beatitudes will allow you to create cards for so many occasions and situations, conveying messages offering true comfort from God's word.
Floral Cluster Fall Flowers by Stamp Simply Clear Stamps
This is a fun set. There are 17 separate words, allowing you to create any number of sentiments for a variety of occasions.
I love this particular flower shape as it can be colored in such a variety of colors to represent so many different flowers.
These are all four of the stamp sets in our Floral Cluster Series.
Available individually or bundled.
And below is the one die set that works with all four of these stamp sets.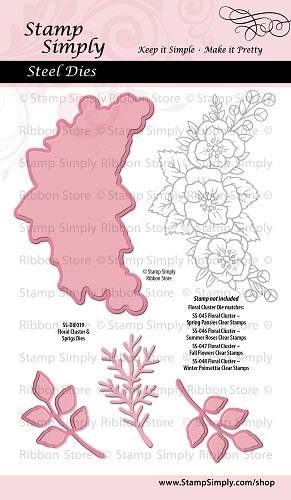 Floral Cluster & Sprigs die set by Stamp Simply Clear Stamps
This set not only cuts out the floral clusters from all four stamp sets in our Floral Cluster Series, but it also offers some fun smaller sprigs to add some additional greenery to your projects.
Items available at The Stamp Simply Ribbon Store, as linked.
_____
We are pleased to offer our line of Stamp Simply Clear Stamps and Steel Dies,
many containing scripture and encouraging, uplifting Christian themes.
Find ALL Stamp Simply Clear Stamps/Dies here.
Find Christian/Scripture themed products here.
View items in our Autumn category here.
View items in our Christmas category here.
_____
If you are new to us, WELCOME! Here are some ways to keep in touch:
FIND US HERE
Follow us on PINTEREST for tons of inspiration!
Like us on FACEBOOK for the latest news!
Check us out on INSTAGRAM.
View our YouTube Channel here.

Sign up for our email NEWSLETTER published once or twice a month.
Subscribe to this blog using the Feedly, Bloglovin or Feedblitz links at the top left sidebar.
_____
Thanks so much for stopping in.
We'd LOVE to have you scroll down to see all the beautiful work by our very talented Design Team.
Wishing you a blessed Sunday and new week ahead!
_____
No responses yet