Mar 29 2021
(Current US Shipping Special – $3.95 – $5.95)
Good Monday morning! Holly brings us our first patriotic card for 2021. Patriotic cards are in demand year round, but it seems with the coming of spring and summer they really increase in popularity and demand, so you can expect to see patriotic samples here throughout the spring and summer! We all love to make patriotic cards.
I love how fresh and crisp Holly's card is in the traditional red, white and blue.
She made good use of some patriotic paper – America by Echo Park.
Holly used our Patriotic Series for the stamped sentiment and stars as well as for the die cut stars.
Holly used Nuvo drops on her card, which we do not stock.
However, we do have some enamel dots left and some that are metal and wood in a patriotic star theme!
And since we are selling out of enamel, they are all ON SALE!
Thank you so much, Holly, for this wonderful patriotic card!
Bring on the warmer temps and those patriotic holidays we all love!
God Bless the USA and those who so selflessly serve to keep us safe!!!
_____
You can find Holly's post on her blog here.
Holly used:
Stamps: Old Glory by Stamp Simply Clear Stamps (sentiment)
Patriotic Sentiments by Stamp Simply Clear Stamps (stamped stars)
Dies: Patriotic Stars & Stripes (Old Glory) by Stamp Simply Clear Stamps (die cut stars)
Spellbinders Standard Circles
Paper: America by Echo Park
Spectrum Noir Ultra Smooth Premium Cardstock White
Ribbon: Baker's Twine – Blueberry/white
Adhesives: Scor Tape, 3D Foam Squares
_____
This is our Patriotic Series.
Old Glory stamp set – Old Glory die set – Patriotic Sentiments stamp set
These sets all coordinate and work together beautifully.
The flag/map die can be used with its coordinating stamp or as a stand alone die of the United States.
The 2 largest stars in the die set fit the 2 largest stars in Patriotic Sentiments.
The smallest star in the die set fits the small star in Old Glory.
The stars can also be used as stand alone dies.
These items are all available individually or bundled for your convenience.
America by Echo Park
Super fun for those patriotic themed projects.
Find more PATRIOTIC THEMED ITEMS here.
Find all paper pads in stock from Echo Park here.
All items available at The Stamp Simply Ribbon Store, as linked.
_____
WHAT ELSE IS GOING ON?
Current Shipping Special – US packages ship from $3.95 – $5.95 based on package weight
As always, you can email us at [email protected] for an international shipping quote – based on package weight
_____
Check out our NEWEST RELEASE here with offerings for Easter and the Christian celebrations of Baptism, Dedication, Confirmation and First Communion.
Projects made with Easter is for Jesus will delight the children!
_____
We have so many more beautiful sets for the coming Easter Season.
Create cards with these lovely scripture sets to encourage and uplift all year long.
_____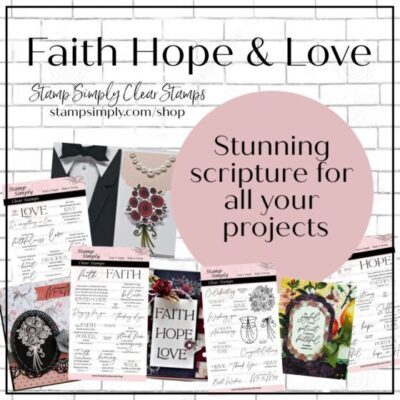 Our last scripture release – FAITH, HOPE & LOVE – is back and fully stocked!
These are beautifully scripted sets to send words of encouragement as well as wedding, anniversary and love themed cards.
_____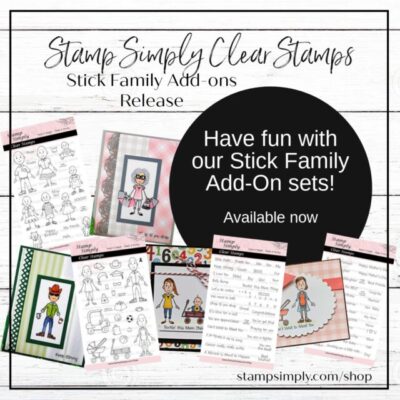 This is our Stick Family Series – both the originals and the add-on sets.
It's so much fun to create all the people in your life!
Color your outfits, add your hairdo and accessories and choose the perfect sentiment!
_____
Create fun projects with the popular farmhouse vibe using sets from our Farmhouse Series.
These sets will uplift, encourage and inspire with a farmhouse theme!
_____
Shop our SALE BINS here for some unbelievable deals.
Find  ALL Graphic 45 paper in stock here – 40% OFF older collections!
MOST Kaisercraft papers  – 25% – 50%+ OFF!
Find all Christmas paper in stock here – select pads REDUCED!
Find Tim Holtz DISTRESS Products in stock here – 25% – 50% OFF!
Find ALL Closeout Stamps here 50% OFF – including Altenew.
Find Spellbinders Die D-Lites here – 50% OFF – many as low as $5.00.
  All Spellbinders Products always reduced — find all Spellbinders dies here.
_____
We are pleased to offer our line of Stamp Simply Clear Stamps and Steel Dies,
many containing scripture and encouraging, uplifting Christian themes.
Find ALL Stamp Simply Clear Stamps/Dies here.
Find Christian/Scripture themed products here.
View items in our Valentine/Wedding/Love category here.
View items in our Easter category here.
View items in our Graduation category here.
View items in our Patriotic category here.
_____
If you are new to us, WELCOME! Here are some ways to keep in touch:
FIND US HERE
Follow us on PINTEREST for tons of inspiration!
Like us on FACEBOOK for the latest news!
Check us out on INSTAGRAM.
View our YouTube Channel here.

Sign up for our email NEWSLETTER published once or twice a month.
Subscribe to this blog using the Feedly, Bloglovin or Feedblitz links at the top left sidebar.
_____
Thanks so much for stopping in today!
Be sure to check back each day for more wonderful inspiration.
We'd LOVE to have you scroll down to see all the beautiful work by our very talented Design Team.
Have a wonderful new week ahead!
_____
No responses yet