May 14 2021
(Current Special at the NEW Stamp Simply – 15% OFF Storewide Code w/FREE Shipping at $85)
(To purchase in the NEW store, you must create an account.)
Good morning, dear friends! Deb has a gorgeous wreath card today made to cheer a friend.
Nothing is sweeter than sending a simple HELLO to a friend.
I think it is so much fun to make these wreaths into cards with fun simple messages, cheery and welcoming, just as you might see on a door wreath.
The images and sentiments are from our set called Spring & Summer Seasonal Wreaths.
The Hello is cut with our Fishtail Sentiment Banners.
The mottled pink paper is from a pad  by Craft Consortium called Grunge Light.
Super lovely! A simple make and fairly flat for mailing – ALL WINS!
Thanks so much, Deb, for this wonderfully cheery card, sure to brighten someone's day!
_____
You can find Deb's post on her blog here.
Deb used:
Stamps: Seasonal Wreaths – Spring & Summer by Stamp Simply Clear Stamps
Dies: Seasonal Wreaths – Spring & Summer by Stamp Simply Clear Stamps
Fishtail Sentiment Banners by Stamp Simply Clear Stamps
Spellbinders Classic Squares – Large and Small
Paper: Grunge Light by Craft Consortium
Cardstock – White
Ink: Memento – Rich Cocoa (image colored with Copics)
Adhesives: Tombow Mono-Multi Glue, 3D Foam Squares, Scor Tape
_____
Seasonal Wreaths – Spring & Summer by Stamp Simply Clear Stamps
We also have a Fall  & Winter wreath option available.
Dies are now available for both sets.
The options are limitless using these wreaths!
Available individually or bundled.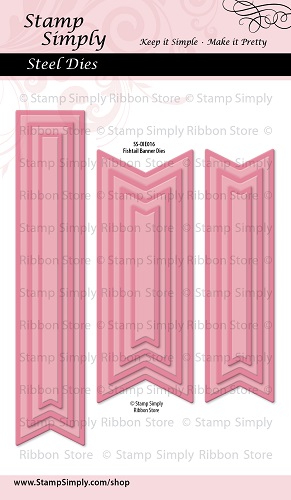 Fishtail Sentiment Banners steel dies by Stamp Simply Clear Stamps
This is a set of 10 nested fishtail sentiment banners designed to fit a large variety of sentiments.
These dies are perfect for sentiments but also make great add-on embellishments for all your projects, too.
Find ALL Stamp Simply Clear Stamps here.
_____
WHAT ELSE IS GOING ON?
Have you checked out our NEW storefront?
We'd love to have you take a peek.
Get 15% OFF storewide and work toward FREE SHIPPING!
And that all takes place in our NEW STOREFRONT!
Remember, to purchase in the NEW store, you must create an account.
Check it out!
_____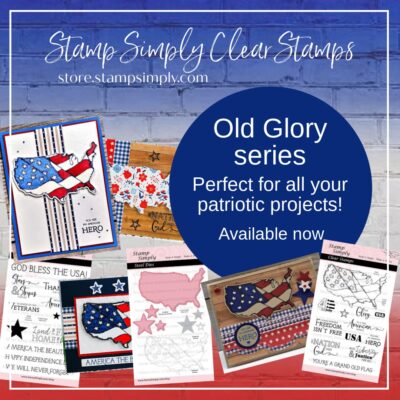 Our Patriotic Series will help you prepare for all patriotic holidays and events.
Honor an active service member, a veteran, our flag, our country!
_____
Let someone know you care and are concerned and that you love and remember them.
Our Typewritten Series covers it all, all year round!
_____
The very popular FAITH, HOPE & LOVE is again restocked!
These are beautifully scripted sets to send words of encouragement as well as wedding, anniversary and love themed cards.
_____
Create fun projects with the popular farmhouse vibe using sets from our Farmhouse Series.
These sets will uplift, encourage and inspire with a farmhouse theme!
_____
We thank you so much for stopping in today!
We invite you to check back each day for more wonderful inspiration.
We'd LOVE to have you scroll down to see all the beautiful work by our very talented Design Team.
Wishing you a wonderful day and weekend ahead!
_____
No responses yet