May 23 2021
Good Sunday morning and WELCOME to all!
We have much to celebrate and a lot of fun planned. We hope you can join us!
As some of you may know, we opened a BRAND NEW STOREFRONT a few weeks back.
And now it's time to CELEBRATE with a BLOG HOP and prizes valued at over $50 at EACH STOP!
We hope you can HOP along with us!
If the winner at any stop has already purchased the prize being offered, other sets of an equal value may be selected.
To be in the running, just COMMENT at each stop.
(Some comments go thru moderation, so don't panic if you don't see it. It'll show up in time!)
Comments will be accepted through 7 am EST Wednesday, 5/26.
Winners will be randomly selected and announced on Thursday evening, 5/27.
Please feel free to get acquainted with our NEW STOREFRONT.
Enjoy 20% OFF storewide with a FREE SHIPPING option.
_____
Let's take a look at the card I made for today.
Then a bit further down we'll check out the give-away at this stop.
True confessions – I don't have a lot of time to stamp.
So, with that in mind, I simply LOVE to pull out a beautiful pad of paper and let it do the magic for me!
In this case I used the Elegance pad by Graphic 45.
I selected which portion of my favorite sheet I wanted to make the focal point of my card, then cut it with the Hemstitch Rectangle die.
I added a few mat layers and a 1/4″ Silk bow, made on the original Bow Easy.
The tiny flowers are Kaisercraft Mini Paper Blooms in Fairy Floss.
The Happy Birthday sentiment is from our All Occasion Sentiments SET 1.
This card is a bit larger at 5 x 7″.
It fits into the 5 x 7″ Clear Box (A7) for protection and a wonderful presentation.
_____
I hope my card inspired you, because the give-away on this blog is:
Both Sets 1 and 2 of our All Occasion Sentiments
PLUS the Elegance 8×8 pad by Graphic 45
PLUS 5 yards of May Arts 1/4″ Silk Ribbon in Pink
PLUS 1 package of Kaisercraft Mini Paper Blooms in Fairy Floss
And all you have to do to be in the running to WIN, is comment below!
_____
BLOG HOP LINK LIST:
Let's get hopping – and remember to comment on EACH post for a better chance to win!
Sharon Johnson/Stamp Simply Blog – YOU ARE HERE
Comments will be accepted through 7 am EST Wednesday, 5/26.
Winners will be randomly selected and announced on Thursday evening, 5/27.
_____
WHAT ELSE IS GOING ON?
Have you checked out our NEW storefront?
We'd love to have you take a peek.
Get 20% OFF storewide and work toward FREE SHIPPING all month long!
And that all takes place in our NEW STOREFRONT!
Remember, to purchase in the NEW store, you must create a new account.
Check it out!
_____
Have you seen our NEW graduation die set?
All your grad projects will be covered using sets from our Graduation Series.
_____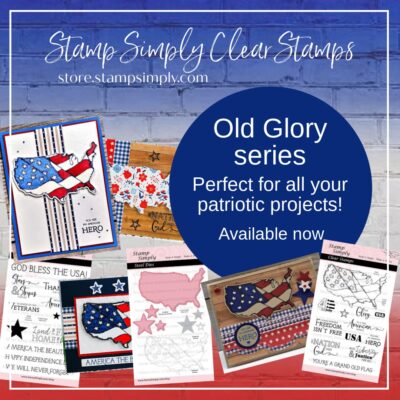 Our Patriotic Series will help you prepare for all patriotic holidays and events.
Honor an active service member, a veteran, our flag, our country!
_____
Let someone know you care and are concerned and that you love and remember them.
Our Typewritten Series covers it all, all year round!
_____
The very popular FAITH, HOPE & LOVE is again restocked!
These are beautifully scripted sets to send words of encouragement as well as wedding, anniversary and love themed cards.
_____
Create fun projects with the popular farmhouse vibe using sets from our Farmhouse Series.
These sets will uplift, encourage and inspire with a farmhouse theme!
_____
We thank you so much for stopping in today!
We invite you to check back each day for more wonderful inspiration.
We'd LOVE to have you scroll down to see all the beautiful work by our very talented Design Team.
Wishing you a Blessed Sunday!
_____
71 responses so far
71 Responses to "Grand Opening Blog Hop – The NEW Stamp Simply"