May 29 2021
(The NEW Stamp Simply – 20% OFF storewide w/FREE shipping on qualifying orders thru May)
View our BLOG HOP WINNERS announcement here.
Good morning! Julie has a card to share today that speaks to my heart. She used a favorite paper collection of mine from Graphic 45, made some lovely small rolled roses and finished it off with a beautifully scripted verse from Proverbs. Take a look:
Oh, be still my heart!
The designer paper is from the gorgeous Elegance pad by Graphic 45.
The Graphic 45 pads are always filled with wonderful cutout options to enchance your projects!
Proverbs 31:30 is from our set called Thinking of You Rose.
It is stamped onto a cutout from the paper pad.
And see those lovely rolled roses? Julie created the rolled roses with the Hemstitch Oval Die.
This is what she did:
Using the Hemstitch Oval Die, die cut with the medium oval frame from light pink cardstock, use scissors to spiral cut (wavy cut) to the center, run through a crimper tool, then roll from the inside to the outer edge.
The leafy foliage is cut with our die set called Two Sprigs.
The beautiful, shimmery Quartz White cardstock was used as the base layer to build upon.
A truly beautiful paper that adds such elegance to a project!
Thank you so much, Julie, for this absolutely gorgeous card sharing scripture.
Sure to touch the heart of the lucky recipient!
_____
You can find Julie's post on her blog here.
Julie used:
Stamps: Thinking of You Rose by Stamp Simply Clear Stamps
Dies: Hemstitch Ovals by Spellbinders
Two Sprigs by Stamp Simply Clear Stamps
Paper: Elegance 8×8 by Graphic 45
Luxury Pearlescent Metallic 105# Cardstock – Quartz White
Standard Cardstock – Black, Pink, Green
Ink: VersaFine – Onyx Black
Embellishments: Kaisercraft Pearls – Pearl
_____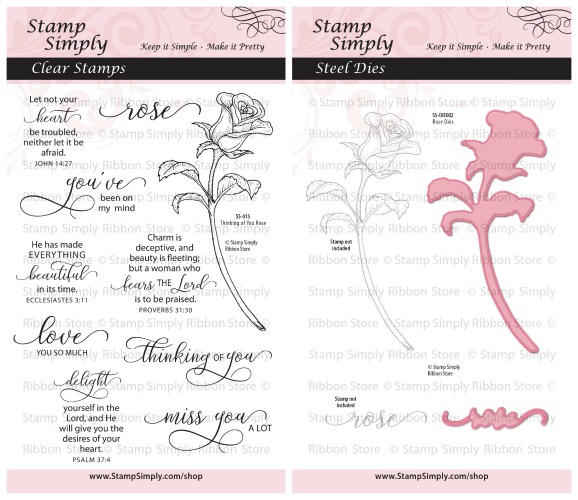 Thinking of You Rose by Stamp Simply Clear Stamps
A lovely set with a long-stemmed rose and such beautiful verses from scripture.
Available individually or bundled.
Two Sprigs by Stamp Simply Clear Stamps
A small foliage set to add some greenery to your projects!
Find ALL Stamp Simply Clear Stamps and Dies here.
Elegance 8×8 by Graphic 45
Beautiful beyond compare!
The chipboard and ephemera cards are in stock as well.
Find all Graphic 45 in stock here.
 Hemstitch Ovals by Spellbinders
The Hemstitch series of dies is super lovely and versatile.
Find all the Hemstitch Dies in stock here.
Find more Spellbinders Dies in stock here.
All items available at the NEW Stamp Simply!
_____
WHAT ELSE IS GOING ON?
Have you checked out our NEW STOREFRONT?
We'd love to have you take a peek.
Get 20% OFF storewide and FREE shipping on qualifying orders through May!
Remember, to purchase in the NEW store, you must create a new account.
Check it out!
_____
Have you seen our NEW graduation die set?
All your grad projects will be covered using sets from our Graduation Series.
_____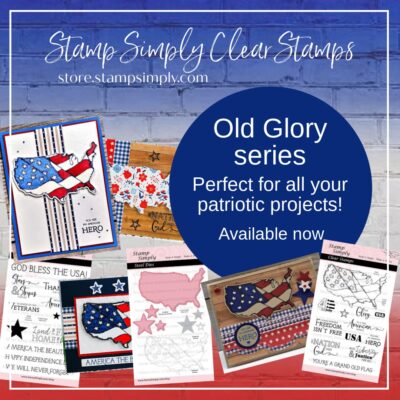 Our Patriotic Series will help you prepare for all patriotic holidays and events.
Honor an active service member, a veteran, our flag, our country!
_____
Let someone know you care and are concerned and that you love and remember them.
Our Typewritten Series covers it all, all year round!
_____
The very popular FAITH, HOPE & LOVE is again restocked!
These are beautifully scripted sets to send words of encouragement as well as wedding, anniversary and love themed cards.
_____
Create fun projects with the popular farmhouse vibe using sets from our Farmhouse Series.
These sets will uplift, encourage and inspire with a farmhouse theme!
_____
We thank you so much for stopping in today!
We invite you to check back each day for more wonderful inspiration.
We'd LOVE to have you scroll down to see all the beautiful work by our very talented Design Team.
Wishing you a wonderful day and weekend ahead!
_____
No responses yet