Jul 21 2021
Good morning to all! It's so very good to be back! I am playing catch up on missed blog posts so today I am sharing two cards by Esther. One has a fun summer/fall fruity theme while the other is a fun-loving Christmas card. We have a special on May Arts Ribbon this week (25% OFF with code MAYARTS25) and both of Esther's cards make good use of a few different ribbon types.
These super fun papers are from a new pad by Echo Park called Farmer's Market.
The stamped fruit images and sentiment are from sets in our Fruit of the Spirit Series by Stamp Simply Clear Stamps.
Esther used Arteza Real Brush Pens to do her beautiful coloring.
The black ribbon Esther used is May Arts 5/8″ Twill – a super versatile ribbon.
That delicate narrow lace is May Arts 1/4″ Crochet Lace in white – so vintage and so pretty!
LOVE this Esther – thank you so much.
Such a homey feel as all of our fruit and veggies are coming into season.
_____
These fun papers are from A Lumberjack Christmas by Echo Park.
The tree is from O Christmas Tree by Stamp Simply Clear Stamps.
The sentiment is from Merry Christmas by Stamp Simply Clear Stamps.
The wide ric rac is May Arts 1″ Ric Rac – super fun!
Esther used the Large Dots embossing folder by Darice – great texture!
Esther decorated the inside to match – always love that!
The inside sentiment is from Wonder of Christmas Sentiments by Stamp Simply Clear Stamps.
Thank you so much, Esther, for this super fun and tactile Christmas card!
It will surely be treasured by the recipient!
_____
Here's a visual of the products Esther used.
Each set is available individually or bundled.
Each set is available individually or bundled.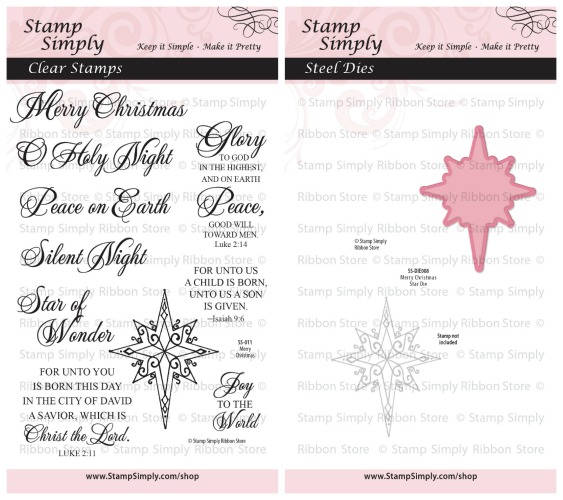 Available individually or bundled.
Find all Stamp Simply Clear Stamps/Steel Dies here.
Farmer's Market by Echo Park – BRAND NEW!!!
Such a fun pad for this time of year.
Lumberjack Christmas by Echo Park
How much fun can it get with this rustic, woodsy themed Christmas pad!
Find all pads in stock by Echo Park here.
A ribbon no craft room should be without – you'll be grabbing it time and time again!
Add that vintage charm with this lovely narrow lace.
A super fun ribbon for any season and any style!
_____
Enter code MAYARTS25 at checkout to get 25% OFF ALL May Arts Ribbon in stock.
We have offerings from thin burlap string to canvas, twill, lace, ric rac, velvet and so much more.
Yes! That includes their luscious silk ribbon, too!
Check out our May Arts Ribbon Selections here.
Shop the full Stamp Simply here.
And we will be back with our regular daily posts each day.
Thanks so much for stopping in.
_____
No responses yet