Oct 12 2021
Today Esther is sharing a lovely card using some beautifully blooming dahlias, brightly colored for a cheery greeting. The foreground collage sentiment is included in the dahlia set, but the scripted background was created using one of our NEW releases, Scripty Background Minis Set 1. These mini backgrounds were designed as a user friendly alternative to the standard, large backgound stamp. We are loving them!
And isn't this lovely! I adore the bright flowers against the crisp black and white of the rest of the card.
I also love how Esther chose to stamp the background on this card. It's so very attractive and a perfect compliment to the florals and collage sentiment.
The dahlias and collage sentiment are from Delightful Dahlias by Stamp Simply Clear Stamps.
The scripted background is from the NEW Scripty Background Minis Set 1 by Stamp Simply Clear Stamps.
The lace is cut with Crochet by Tim Holtz (Sizzix) – 10% OFF this month!
The ink Esther used is VersaFine Clair in Nocturne.
Really loving this card!!! Some lucky recipient will be thrilled to pieces!
Thanks so much, Esther.
You can find Esther's post on her blog here.
__________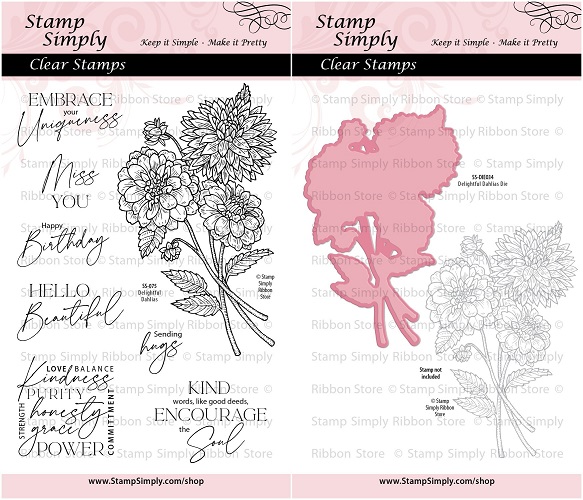 Delightful Dahlias by Stamp Simply Clear Stamps
You'll find so many uses for this lovely set!
Scripty Background Minis by Stamp Simply Clear Stamps – NEW!
Esther used Set 1 today, shown on the left. Set 2 is on the right.
These were designed to be used as backgrounds in a smaller, easier to use size.
The variety of sentiments/verses included will allow you to have a perfect background for just about any season or occasion. Stamp them in light ink for a softer background, or stamp off, or use with a crisp ink as Esther did today. You'll have fun with these great additions to your stamp collection.
Crochet by Tim Holtz (Sizzix) – 10% OFF this month!
This is such an often used and loved die set!
Find all dies in stock by Tim Holtz here – 10% OFF this month!
__________
WHAT ELSE IS GOING ON?
Please check out all of our NEW RELEASES!
We stock Tim Holtz dies, embossing folders and stencils.
Get 10% OFF, while supplies last, through the month of October.
Use code TIM10 at checkout.
As always, FREE SHIPPING at $100.
__________
Find our fall themed stamps and dies here.
Find a variety of fall themed items here.
__________
Pastor and Ministry Appreciation Stamp Sets
Remember to acknowledge your Pastor as well as anyone who spends their time in service to others!
A card of appreciation will mean more to them than you might realize!
__________
Thank you so much for stopping in.
We would LOVE to have you scroll down to see all the lovely creations by our very talented design team.
Please join us daily for more projects using our NEW sets!!
No responses yet