Nov 15 2020
(Current US Shipping Special - $3.95 – $5.95)
Good Sunday morning and WELCOME to another fun week here at Stamp Simply! Each morning for the next week we will be featuring a card with a poinsettia as the focal image. Who doesn't just LOVE poinsettias at this time of year! We begin with this gorgeous card by Julie featuring not only a beautiful poinsettia wreath but some gorgeous plaid paper as well.
I so LOVE this card! It's a bit formal, a bit earthy, a bit vintage and  SO PRETTY!
The wreath/floral used is our Seasonal Wreaths – Fall & Winter set.
The sentiment is from our NEW Typewritten Year Round Greetings set.
After stamping and coloring the image, Julie fussy cut around the perimeter – fun!
That gorgeous plaid paper is from the Little Lumberjack pad by Echo Park – a super fun pad!
The strips are cut with our Fishtail Sentiment Banners .
The card is dressed up with die cut lace, seam binding ribbon and some pearls.
A lovely, lovely card for Christmas!
Thank you so much Julie for this wonderful inspiration!
_____
You can find Julie's post on her blog here.
Julie used:
Stamps: Seasonal Wreaths – Fall & Winter (wreath/floral)
Typewritten Year Round Greetings by Stamp Simply Clear Stamps (sentiment)
Dies: Fishtail Sentiment Banners by Stamp Simply Clear Stamps (plaid banners)
Crochet Die by Tim Holtz (Sizzix) (lace)
Paper: Little Lumber Jack by Echo Park
Ink: VersaFine – Onyx Black
VersaMark embossed with Embossing Powder – Detail White, Clear
Zig Wink of Stella Glitter Marker – Clear
Ribbon: Seam Binding – Black
Embellishments: Kaisercraft Pearls
Adhesives: Tombow Mono-Multi Liquid Glue, 3D Foam Squares, EZ Runner
_____
These are both sets in our Seasonal Wreath release.
These interchangeable sets are available individually or bundled.
The lovely wreaths and florals with variety of sentiments will be sets you grab all year long!
These are all 3 sets in our NEW Typewritten Sentiments release.
Julie used the 3rd set shown, which is Year Round Greetings.
These sets are made to mix and match for so many situations and occasions throughout the entire year.
Available individually or bundled.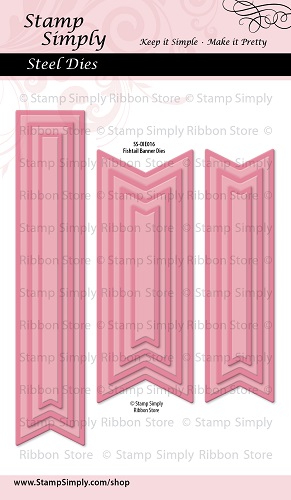 Fishtail Sentiment Banners steel dies by Stamp Simply Clear Stamps
This is a set of 10 nested fishtail sentiment banners designed to fit a large variety of sentiments.
These dies are perfect for sentiments but also make great add-on embellishments for all your projects, too.
Find ALL Stamp Simply Clear Stamps/Dies here.
Crochet Die by Tim Holtz
We are LOVING this die. It looks like vintage lace and is perfect for so many projects!
This die has surely become a favorite of our design team.
Find all dies in stock by Tim Holtz here.
Little Lumber Jack by Echo Park
This is such a fun pad with a rustic, woodsy theme!
There is also a similar pad called A Lumberjack Christmas.
Find all paper pads in stock from Echo Park here.
Items available at The Stamp Simply Ribbon Store, as linked.
_____
WHAT ELSE IS GOING ON?
US Shipping Based on Package Weight – $3.95 – $5.95
It's a good time to stock up for the holidays, especially with so much on SALE right now!
_____
This is our current release – Typewritten Sentiments.
When looking for just the right words, this series will help you out!
_____
Here are a few recent releases to check out if you missed them.
This is our most recent Christmas release – Christmas Peace & Joy.
Use these interchangeable sets to create traditional Christmas projects with style and class!
_____
Here's our wreath release – Seasonal Wreaths – covering all seasons.
You'll love these sets to create welcoming cards year round!
_____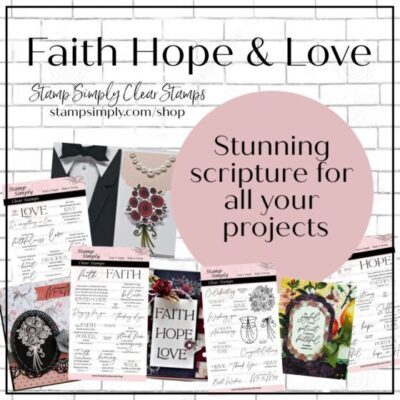 Our last scripture release – FAITH, HOPE & LOVE – is back and fully stocked!
These are beautifully scripted sets to send words of encouragement as well as wedding, anniversary and love themed cards.
_____
Shop our SALE BINS here for some unbelievable deals.
Find  ALL older Graphic 45 paper in stock here – 40% OFF! (excluding NEW)
MOST Kaisercraft papers  – 25% – 50%+ OFF!
Find ALL older CHRISTMAS PAPER in stock here – 30%+ OFF! (excluding NEW)
Find Tim Holtz DISTRESS Products in stock here – 25% – 50% OFF!
Find ALL Closeout Stamps here 50% OFF – including Altenew.
Find Spellbinders Die D-Lites here – 50% OFF – many as low as $5.00.
  All Spellbinders Products always reduced — find all Spellbinders dies here.
_____
We are pleased to offer our line of Stamp Simply Clear Stamps and Steel Dies,
many containing scripture and encouraging, uplifting Christian themes.
Find ALL Stamp Simply Clear Stamps/Dies here.
Find Christian/Scripture themed products here.
View items in our Autumn category here.
View items in our Christmas category here.
_____
If you are new to us, WELCOME! Here are some ways to keep in touch:
FIND US HERE
Follow us on PINTEREST for tons of inspiration!
Like us on FACEBOOK for the latest news!
Check us out on INSTAGRAM.
View our YouTube Channel here.

Sign up for our email NEWSLETTER published once or twice a month.
Subscribe to this blog using the Feedly, Bloglovin or Feedblitz links at the top left sidebar.
_____
Thanks so much for stopping in today!
We'd LOVE to have you scroll down to see all the beautiful work by our very talented Design Team.
Wishing you a Blessed Sunday.
_____