Nov 15 2018
If you enjoy window cards, we have a stunning one to show you today. Deb created this card with the snow laden tree on the inside, deer peeking from behind, all seen through the window on the card front. And she's explaining how she did it if you're curious as to how window cards are created. Be sure to click into her link below. Let's take a look:
Talk about a WOW! card – oh my!!!
Colors always seem to be the first thing to speak to me when I see a project and I'm loving the colors here. The subdued blue/green of the papers with the gold accents and that pop of traditional Christmas red/green in the floral cluster is just gorgeous! Agreed?
Note how well the paper on the card front coordinates with the stamped images.
And here's the inside of the card.
The deer and sentiment are stamped in gold with the tree die cut and adhered.
And check out all that realistic snow on the tree – created with Snow-Tex.
And here's a closer look at the floral cluster – ribbon, some sparkly gold string ribbon and a pretty flower. And the extra pops of red from the enamel tie it all together.
Find Deb's post here with the how to for creating the window.
Deb used:
Stamps: Farmhouse Christmas by Stamp Simply Clear Stamps (sentiments & deer)
O Christmas Tree by Stamp Simply Clear Stamps (tree)
Stamped using the Tim Holtz Tonic Stamp Platform – perfect placement & impressions every time!
Dies: O Christmas Tree by Stamp Simply Clear Stamps
Fishtail Sentiment Banners by Stamp Simply Clear Stamps
Spellbinders Classic Ovals – Large & Small
Paper: Solitude by Authentique
 Luxury Pearlescent Metallic 105# Cardstock – Gold
Ink: Delicata – Golden Glitz
Memento – Rich Cocoa
Ribbon: May Arts 3/8″ Grosgrain Stripe – Red/green
May Arts Metallic String Ribbon – Gold
Embellishments: Petaloo Baby Blooms – Red

Enamel Dots – Cozy Christmas by Simple Stories
Accents: Snow Tex
Adhesives: Tombow Mono Multi Liquid Glue, 3D Foam Squares
Farmhouse Christmas by Stamp Simply Clear Stamps
This set coordinates with our Farmhouse Series of stamps and dies.
With just this one set you'll be able to create a variety of tags and cards and have all that you need for both the fronts/insides/backs!
Combining this set with others in our Farmhouse Series extends its use even further.
There are 3 sets in our O Christmas Tree series – two stamp sets and one die set.
Today Deb used the first 2 items shown, O Christmas Tree stamp and die sets.
Having items coordinate for projects is a must in my book – and this trio does just that!
Each item is available individually or in several other purchase options.
Find all Christmas themed Stamp Simply Clear Stamps here.
Find ALL Stamp Simply Clear Stamps/Dies here and SAVE by purchasing the combo offers.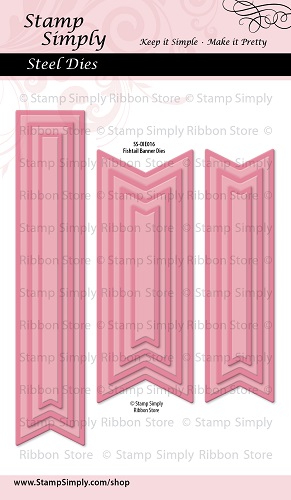 Fishtail Sentiment Banners steel dies by Stamp Simply Clear Stamps
This is a set of 10 nested fishtail sentiment banners designed specifically to fit the variety of sentiments included in all of our Stamp Simply Clear Stamp Sets.
This wonderful variety of sentiment banners will, of course, work so well with sentiments from other manufacturers as well, the BIG PLUS being that a total of 10 dies are included, so you'll be sure to find just the size you need!
Solitude by Authentique
Beautiful nature inspired outdoor prints and more of those beautiful plaids.
This is another fun paper collection for your winter projects.
May Arts 3/8″ Grosgrain Stripes – Red/green used today (not all colors shown)
This versatile ribbon is in stock in 16 colors and 2 widths – 1.5″ and 3/8″.
This ribbon is a long time favorite of so many!
May Arts Metallic String Ribbon – Gold used today
This is such a pretty, yet simple, way to dress up a project, available in so many pretty colors.
Please do not confuse this with our Metallic String which is much thinner.
Petaloo Botanica series of flowers in red
An array of colors are available – GORGEOUS FLOWERS!
Left – Petaloo Botanica Minis
Center – Petaloo Botanica Blooms (much larger)
Right – Petaloo Botanica Baby Blooms – Deb used these today
Find all flowers in stock here.
All items available at The Stamp Simply Ribbon Store, as linked.
_____
PLEASE NOTE:
To see all the

NEW

paper pads in stock check out What's New?
Find our HUGE PAPER SALE here – 25%-50% OFF!
Altenew – Stamps/Dies/Ink – 25%-30% OFF!
View our Coffee/Tea Section for some wonderful SAVINGS!

Find our full FALL RELEASE HERE
Find ALL Stamp Simply Clear Stamps here.
View our JustRite Clear Stamp Closeout Sale here – ALL $10 or LESS (even the large $25.95 sets!)
View our LaBlanche Silicone Stamp Closeout Sale here – beautifully detailed stamps – ALL REDUCED!
_____
View items in our Autumn category here.
View items in our Christmas category here.
View items in our Christian/Scripture category here.
 All Spellbinders Products always reduced — dies and embossing folders.
Find more NEW items listed in our store here
__________
Please Keep in Touch
We'd LOVE to have you scroll down to see all the beautiful work by our very talented Design Team.
I encourage you to LIKE The Stamp Simply Ribbon Store Facebook Page if you have not done so already.
And we recently opened an INSTAGRAM account, so you can follow us over there, too!
You may also subscribe to this blog using the Feedly,  Bloglovin or Feedblitz links at the top of the left sidebar.
_____
Tips, specials and newsy items are sent out via a Newsletter once or twice a month.
Would you like to receive our Newsletters?
If so, you can SIGN UP HERE.
_____
Thank you for joining us today.
Please join us again for some more wonderful inspiration!

We LOVE when you stop in!
Have a great day.
_____
No responses yet