Jan 30 2020
(2  Days Left – $2.95 shipping to all US addresses throughout January)
Sometimes we all struggle with a Valentine (or any card) for the guys in our life. Deb hit the nail on the head with this FAB card using papers from the Workshop collection by Kaisercraft. Sometimes all it takes is the right paper to make a project come together easily. Take a look:
I find this so very appealing – the gears, sprockets, wheels – the colors – oh my!
Personally, I love to play with fun papers, and this collection gives you so many opportunities to create with the guys in mind.
Here's a close up view of the focal image, which is so easy to create!
Deb merely used a circle die to cut an image of interest from the paper pad, added the simple 'for you' and there you have it.
The simple knotted piece of seam binding is just enough to add interested but not so much as to make a man feel he has a "bow" on his card – LOL. And look at it closely – I do believe it is stapled on – another fun element that works perfectly with a guy card!
And here's the inside, using die cut fishtail banner strips on top to tie it in perfectly with the card front, along with the completion of the sentiment down on the bottom.
A perfect guy Valentine!
You can find Deb's post on her blog here.
Deb used:
Paper: Workshop by Kaisercraft
Stamps: Floral Cluster Spring Pansies by Stamp Simply Clear Stamps
Dies: Fishtail Sentiment Banners by Stamp Simply Clear Stamps
Spellbinders Standard Circles - Large, Small
Ink: Tim Holtz Distress Ink – ALL DISTRESS INKS ON SALE!
Ribbon: Seam Binding – Fig Beige
Embellishments: Enamel Dots – My Mind's Eye Necessities Wood Dots
Adhesives:  Tombow Mono-Multi Liquid Glue, 3D Foam Squares
Love all the textures in this collection – great for those guy themed projects!
We also have the Die Cut Collectables in stock to coordinate with this paper pad.
Find all Kaisercraft paper pads in this 6.5″ size here – MOST ON SALE!
Floral Cluster Spring Pansies by Stamp Simply Clear Stamps

This is the Just a Little Note set, giving you so many sentiment options that you'll be grabbing this set often.
View all four of the stamp sets in our Floral Cluster Series.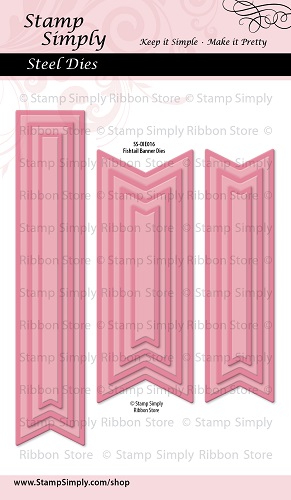 Fishtail Sentiment Banners steel dies by Stamp Simply Clear Stamps
This is a set of 10 nested fishtail sentiment banners designed specifically to fit a large variety of sentiments.
These dies are perfect for sentiments but also make great add-on embellishments for all your projects, too.
Find ALL Stamp Simply Clear Stamps/Dies here.
Items available at The Stamp Simply Ribbon Store, as linked.
_____
SPECIALS
We have so much on sale right now in our effort to clean up and reorganize.
2 days left to get $2.95 US shipping!
All Spellbinders heart (love) themed dies are 50% OFF.
Plus, our Stamp Simply Farmhouse Pierced Nested Hearts Die is 30% OFF.
And our May Arts Adhesive Sequin Heart Ribbon is 30% OFF.
A vast portion of the store is on sale.
Coupled with $2.95 shipping it's a good time to shop!
Shop our SALE BINS here.

Find our selection of Christmas Paper here – 30% OFF.
Find ALL Graphic 45 in stock here – 40% OFF.
Find our Closeout Stamps here 50% OFF – Altenew was recently added!
Find Spellbinders Die D-Lites here – 50% OFF – many as low as $5.00.
Find Tim Holtz Distress products here – Ink is up to 50% OFF.
_____
As always, we are pleased to offer our line of Stamp Simply Clear Stamps and Steel Dies, many containing scripture and encouraging, uplifting Christian themes.
Find ALL Stamp Simply Clear Stamps/Dies here.
Find Christian/Scripture themed products here.
View items in our Love/Wedding category here.
View items in our Masculine category here.
View items in our Graduation category here.
View items in our Patriotic category here.
_____
If you are new to us, WELCOME! Here are some ways to keep in touch:
FIND US HERE
Follow us on PINTEREST for tons of inspiration!
Like us on FACEBOOK for the latest news!
Check us out on INSTAGRAM.
View our YouTube Channel that we are just putting together and working on – NEW!
Sign up for our email NEWSLETTER published once or twice a month.
Subscribe to this blog using the Feedly, Bloglovin or Feedblitz links at the top left sidebar.
_____
Thank you for joining us and we hope to see you again soon.
We'd LOVE to have you scroll down to see all the beautiful work by our very talented Design Team.
Have a wonderful day!
_____
No responses yet