May 17 2020
Good Sunday morning to all! Wishing you a blessed day today!!!
We are so super excited over here. We have been playing all week long with our NEW PATRIOTIC Mini Release. Our original Patriotic Sentiments has been so very popular we wanted to add a few companion products. And YES, we are loving them!
Our NEW Old Glory stamp set with the coordinating die set is shown above.
And you can see a little peek of some of the card samples we'll be sharing this week. We will be here each day this week (and beyond) to inspire you with patriotic projects to get your creative juices flowing.
We do, however, have 2 cards to share with you today.
I love things fresh, crisp and white, so that's how we are starting off.
What a beautiful tribute to our country and our flag!
This clean and white card was created by Deb Saaranen.
She watercolored her flag/map using Distress Inks.
The entire card is made of  Watercolor Paper. Deb does that a lot and it sure provides for a substantial, rich looking end product!
Deb commented on how super easy it was to watercolor this beautiful flag.
The traditional red and blue just POP against all the white!
Deb used our Fishtail Sentiment Banners for the sentiment panel.
Again, white on white – just lovely!
It's a Grand Old Flag, for sure!
_____
Our next card is again fresh, crisp and white, but with a bit of a different flair.
Created by Esther Asbury, this card literally blew me away from the get go!
Esther used the individual sentiment stamps from the set to create her subway art background.
She used scissor blades to distress the edges of the paper – love that!
There's a lot going on, a lot to attract the eye, but it somehow maintains that crisp, white, fresh feel I love so much.
I really looked at that map to try to figure out what Esther did here. Luckily, she told me – LOL!
She stamped the map onto mixed media paper and colored it with Arteza Real Brush Pens.
She then fussy cut that map with scissors and mounted it onto the map shape she had die cut from black cardstock.
I love the look and that black edge she was able to get by fussy cutting the colored flag/map.
And her colors are so bright and vibrant against the crisp white paper!
Gorgeous, indeed!
_____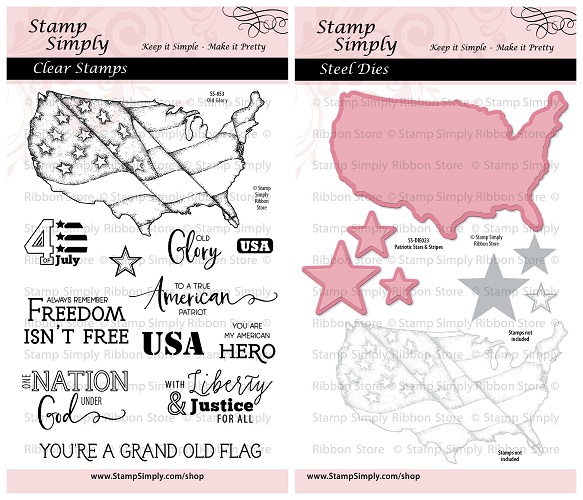 These are the two new sets:
Old Glory Stamp Set and Patriotic Stars & Stripes (Old Glory) Steel Dies
Here are the two NEW sets along side our original Patriotic Sentiments.
These sets all coordinate and work together beautifully.
The die set functions well with both sets as the die can be used with its coordinating stamp or as a stand alone die of the United States.
The two largest stars in the die set fit the 2 largest stars in Patriotic Sentiments.
The smallest star in the die set fits the small star in Old Glory.
Of course, the stars, too, can be used as stand alone dies without any stamps.
I think you'll be truly inspired with all the samples popping up this week showing you different ways to use this trio of patriotic sets!
These items are all available individually or in a variety of convenient bundles.
We've made it easy for you to pick up just what you need!
Find more PATRIOTIC THEMED ITEMS here.
All items available at The Stamp Simply Ribbon Store, as linked.
_____
SPECIALS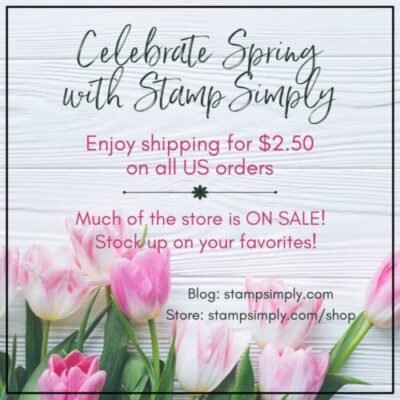 We are spring cleaning, thinning out and reorganizing so we have MUCH on sale right now.
Coupled with just $2.50 US shipping it's a great time to shop!
Based out of our rural Upper Michigan home we are open and SHIPPING DAILY.
_____
Find our last Mini Release – The Stick Family – here.
Check out What's New? to see the latest papers in stock!
_____
Shop our SALE BINS here for some unbelievable deals.
Find ALL Graphic 45 paper in stock here – 40% OFF! (excluding NEW)
MOST Kaisercraft papers  – 25% – 50%+ OFF!
Find ALL CHRISTMAS PAPER in stock here – 30%+ OFF!
Find ALL Tim Holtz DISTRESS Products in stock here – 25% – 50% OFF!
Find ALL Closeout Stamps here 50% OFF – including Altenew.
Find Spellbinders Die D-Lites here – 50% OFF – many as low as $5.00.
  All Spellbinders Products always reduced — find all Spellbinders dies here.
_____
We are pleased to offer our line of Stamp Simply Clear Stamps and Steel Dies,
many containing scripture and encouraging, uplifting Christian themes.
Find ALL Stamp Simply Clear Stamps/Dies here.
Find Christian/Scripture themed products here.
View items in our Love/Wedding category here.
View items in our Masculine category here.
View items in our Graduation category here.
View items in our Patriotic category here.
_____
If you are new to us, WELCOME! Here are some ways to keep in touch:
FIND US HERE
Follow us on PINTEREST for tons of inspiration!
Like us on FACEBOOK for the latest news!
Check us out on INSTAGRAM.
View our YouTube Channel here.

Sign up for our email NEWSLETTER published once or twice a month.
Subscribe to this blog using the Feedly, Bloglovin or Feedblitz links at the top left sidebar.
_____
Thanks so much for stopping in.
We'd LOVE to have you scroll down to see all the beautiful work by our very talented Design Team.
Wishing you a blessed Sunday!
_____
No responses yet