Jun 27 2020
$2.50 Shipping within the US – Current Shipping Special!
Good Saturday morning. It looks like a beautiful weekend is upon us! Today we are featuring the last 2 cards from Guest Designer Dawn Barrett. She's been with us a few months sharing her creations with our last several mini releases and we LOVED having her! She has a fun style of watercolor painting images that always makes them shine! Let's take a look at what she is sharing today:
This card could be used for many different occasions – wedding is the first that comes to mind, but I think it would also be great for a Valentine, anniversary or engagement card.
Dawn used our NEW Wedding & Anniversary Wishes stamp set, which is 1 of 4 in our Faith, Hope and Love Series.
Dawn stamped and watercolored the florals twice. One image was fussy cut for the bouquet and the other image was die cut with a heart die for a coordinating embellishment – FUN!
_____
Dawn used the HOPE set for her 2nd card today.
I love the combined large HOPE with the beautifully scripted verse from Romans 12:12.
The papers are from the  Darcelle paper pad by Prima.
A fun card design meant to send words of encouragement.
_____
You can find Dawn's post on her blog here.
Dawn used:
Stamps: Wedding and Anniversary Wishes by Stamp Simply Clear Stamps
LOVE by Stamp Simply Clear Stamps
 HOPE by Stamp Simply Clear Stamps
Dies: Similar – Spellbinders Classic Hearts – ON SALE!
or Farmhouse Pierced Nested Hearts by Stamp Simply Clear Stamps
Similar – Spellbinders Labels Dies – ON SALE!
Paper: Hello Sunshine by Kaisercraft – ON SALE! (Love card)
Darcelle by Prima (Hope card)
Embellishments: Find a similar large flourish here – Kaisercraft Pearl Flourish
_____
Today Dawn used 3 of the 4 sets in our NEW release -  Faith, Hope & Love.
Combining various sentiments from all these sets gives you so many options!
Dawn took the small 'love' from the LOVE set, and combined it with the 'Wishing you' from the Wedding set.
These sets are available individually or bundled.
Hello Sunshine by Kaisercraft – 6.5″ paper pad – ON SALE!
Used on the Love card today.
What a fun pad with a theme loved by all ages!
Find more 6.5 x 6.5″ pads by Kaisercraft here.
Darcelle by Prima
Used on the Hope card today.
Such a lovely paper pad in rich blues and purpley burgundies with beautiful vintage designs.
Find more beautiful paper pads by Prima here.
All items available at The Stamp Simply Ribbon Store, as linked.
_____
WHAT ELSE IS GOING ON?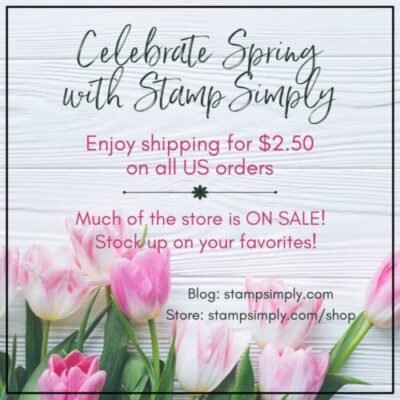 We are still cleaning, thinning out and reorganizing so we have MUCH on sale right now.
Coupled with just $2.50 US shipping it's a great time to shop!
Based out of our rural Upper Michigan home we are open and SHIPPING DAILY.
_____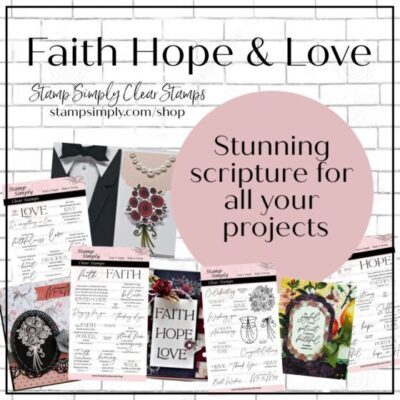 Our current release – FAITH, HOPE & LOVE.
These are beautifully scripted sets to send words of encouragement as well as wedding, anniversary and love themed cards.
_____
Our Lower Michigan Mini Release completes our Michigan Series.
If you are a Michigander or just have a love of Michigan – these sets were made with you in mind!
_____
This is our PATRIOTIC Mini Release – Old Glory.
This is surely a favorite of customers and our Design Team alike!
_____
Shop our SALE BINS here for some unbelievable deals.
Find ALL Graphic 45 paper in stock here – 40% OFF! (excluding NEW)
MOST Kaisercraft papers  – 25% – 50%+ OFF!
Find ALL CHRISTMAS PAPER in stock here – 30%+ OFF!
Find ALL Tim Holtz DISTRESS Products in stock here – 25% – 50% OFF!
Find ALL Closeout Stamps here 50% OFF – including Altenew.
Find Spellbinders Die D-Lites here – 50% OFF – many as low as $5.00.
  All Spellbinders Products always reduced — find all Spellbinders dies here.
_____
We are pleased to offer our line of Stamp Simply Clear Stamps and Steel Dies,
many containing scripture and encouraging, uplifting Christian themes.
Find ALL Stamp Simply Clear Stamps/Dies here.
Find Christian/Scripture themed products here.
View items in our Love/Wedding category here.
View items in our Masculine category here.
View items in our Graduation category here.
View items in our Patriotic category here.
_____
If you are new to us, WELCOME! Here are some ways to keep in touch:
FIND US HERE
Follow us on PINTEREST for tons of inspiration!
Like us on FACEBOOK for the latest news!
Check us out on INSTAGRAM.
View our YouTube Channel here.

Sign up for our email NEWSLETTER published once or twice a month.
Subscribe to this blog using the Feedly, Bloglovin or Feedblitz links at the top left sidebar.
_____
Thanks so much for stopping in.
We'd LOVE to have you scroll down to see all the beautiful work by our very talented Design Team.
Wishing you a wonderful weekend!
_____
No responses yet