Jul 11 2020
$2.50 Shipping within the US – Current Shipping Special!
Good morning! I am here today sharing a birthday card I made. I like to keep things simple, and this card certainly was. But I also like things pretty and a bit fancy at times, and this is that, too! Using just a few really beautiful things on your project allows you to keep it simple, but make it pretty, too!
The simple: the layout, straight cuts, simple oval die cut shapes.
The fancy/pretty: the paper, the font/sentiment, the floral/silk ribbon bow cluster.
The beautiful paper is Watercolored Memories by Ken Oliver. I used a 6×6 sheet but, sadly, they are no longer available. I do have these beautiful sheets in stock in 12 x 12 – and they are ON SALE!
The 12 x 12 sheets are beautiful enough to frame, if one were so inclined!
Here's a closer look at the focal image.
The sentiment is one of many offered in our Birthday Sentiments stamp set.
The 1/4″ Silk Ribbon bow was made on the original Bow Easy (5 loops around).
Dainty flowers were glued in the ribbon center with a die cut leaf sprig inserted beneath.
When presenting cards with this much bulk, I do like to put them into a Clear Box. Although this card was a bit smaller than a 5 x 7″, I did gift this card in a 5 x 7″ Clear Box (A7).
And here's the simple card inside with plenty of room to write a personal message.
The sentiments are both included in our Birthday Sentiments stamp set.
This card was made for a special lady for a very special birthday. I hope she enjoyed it!
_____
I used:
Stamps: Birthday Sentiments by Stamp Simply Clear Stamps
Dies: Spellbinders Classic Ovals – Large, Small
Spellbinders Foliage
Paper: Watercolored Memories by Ken Oliver
(6×6 used, but no longer available – 12 x 12 is in stock and ON SALE!)
Ink: VersaFine – Onyx Black
Ribbon: May Arts 1/4″ Silk – Pink
 Bow made on the Original Bow Easy
Embellishments: Kaisercraft Mini Paper Blooms – Fairy Floss
Adhesives: EZ Runner, 3D Foam, Liquid Glue
Packaging: Clear Box (A7) - 5 x7″ Size
Birthday Sentiments  (right) is a companion set to our original Birthday Blessings (left).
I wanted to post them here side by side to show you how well they do coordinate and how you can mix and match sentiments from each set allowing you to create an even wider variety of messages.
Available individually or bundled.
Watercolored Memories by Ken Oliver – 12 x 12″ shown, in stock and ON SALE!
(I used a sheet from the 6×6″ pad on my card today, which is no longer available.)
These sheets are a heavier weight, somewhat glossy paper – true quality.
Each double sided sheet has 2 creative options – one side is brilliantly colored for vibrant effects, the reverse side is designed in a muted color palette for more subtle projects. I used the side with the muted colors for my card.
Find more of the beautiful paper in stock by Ken Oliver here.
May Arts 1/4″ Silk – pink shown and used today
Our silk ribbon is available in a vast array of colors,  3 widths, in cut yardage, by the full spool, or in sampler packages.
 Kaisercraft Mini Paper Blooms – Fairy Floss shown and used today
These lovely smaller flowers by Kaisercraft are available in a variety of colors.
Find all flowers in stock here.
All items available at The Stamp Simply Ribbon Store, as linked.
_____
WHAT ELSE IS GOING ON?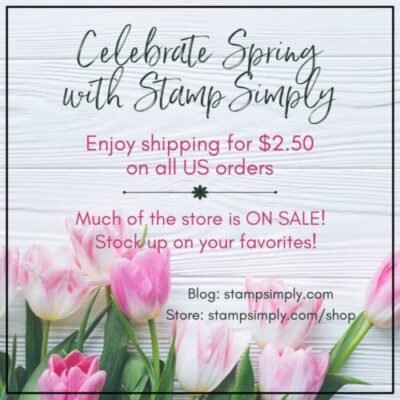 We are still cleaning, thinning out and reorganizing so we have MUCH on sale right now.
Coupled with just $2.50 US shipping it's a great time to shop!
Based out of our rural Upper Michigan home we are open and SHIPPING DAILY.
_____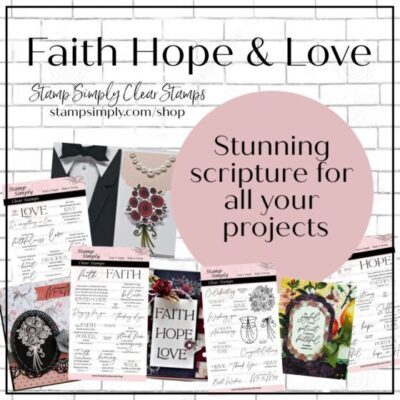 Our current release – FAITH, HOPE & LOVE.
These are beautifully scripted sets to send words of encouragement as well as wedding, anniversary and love themed cards.
_____
Our Lower Michigan Mini Release completes our Michigan Series.
If you are a Michigander or just have a love of Michigan – these sets were made with you in mind!
_____
This is our PATRIOTIC Mini Release – Old Glory.
Our full Patriotic Series is back in stock!!!  YAY!!!
This is surely a favorite of customers and our Design Team alike!
_____
Shop our SALE BINS here for some unbelievable deals.
Find ALL Graphic 45 paper in stock here – 40% OFF! (excluding NEW)
MOST Kaisercraft papers  – 25% – 50%+ OFF!
Find ALL CHRISTMAS PAPER in stock here – 30%+ OFF!
Find ALL Tim Holtz DISTRESS Products in stock here – 25% – 50% OFF!
Find ALL Closeout Stamps here 50% OFF – including Altenew.
Find Spellbinders Die D-Lites here – 50% OFF – many as low as $5.00.
  All Spellbinders Products always reduced — find all Spellbinders dies here.
_____
We are pleased to offer our line of Stamp Simply Clear Stamps and Steel Dies,
many containing scripture and encouraging, uplifting Christian themes.
Find ALL Stamp Simply Clear Stamps/Dies here.
Find Christian/Scripture themed products here.
View items in our Love/Wedding category here.
View items in our Masculine category here.
View items in our Graduation category here.
View items in our Patriotic category here.
View items in our Autumn category here.
_____
If you are new to us, WELCOME! Here are some ways to keep in touch:
FIND US HERE
Follow us on PINTEREST for tons of inspiration!
Like us on FACEBOOK for the latest news!
Check us out on INSTAGRAM.
View our YouTube Channel here.

Sign up for our email NEWSLETTER published once or twice a month.
Subscribe to this blog using the Feedly, Bloglovin or Feedblitz links at the top left sidebar.
_____
Thanks so much for stopping in.
We'd LOVE to have you scroll down to see all the beautiful work by our very talented Design Team.
Wishing you a wonderful weekend!
_____
One response so far
One Response to "A Simple (but fancy) Happy Birthday – by Sharon Johnson"