Oct 01 2020
Welcome to October! This month is celebrated as Pastor Appreciation Month. The 2nd Sunday of October is Pastor Appreciation Day, but we denote the month moreso than just one day in our church, and I know many do. Whenever and however you celebrate, the idea is to express thanks and appreciation to your pastor and to any who might serve – and we know there are so many! Our Pastor and Ministry Appreciation sets are perfect for this and Deb has a wonderful card to share with us today.
Although Deb lives in Florida she is from Louisiana and her heart has been heavy with the devastation caused by Hurricane Laura. With the making of this card her thoughts were with her small home church where daily they offer meals, water and supplies to all the workers dealing with the clean-up. Deb chose this paper as it made her think of all the chain saws buzzing to clean up the downed trees everywhere.
I LOVE when that much thought goes into a card!
Deb thought this verse from Hebrews would be perfect to send to her home church in Louisiana, and I couldn't agree more.
Deb's first version of the card (1st photo) is plain, while her 2nd version has a faux canvas bow added.
I like both versions and whether you are mailing or hand delivering your card might be the determining factor as to which way you'd prefer to go.
There's a fun twist to the construction of Deb's card.
It is a gatefold card with an interlocking center opening. The frame is attached to the left side of the card front while the sentiment panel is attached to the right side. What a fun opening!
In googling I found this Interlocking Gatefold Card Tutorial which shows how easy it is to do.
Deb just rotated her center panel to be a diamond while the tutorial above used it as a square.
Deb shares one additional TIP on making this card:
TIP:  I cut the frame and the sentiment panels twice so that the double-thickness would be stronger and hopefully resist bending as the card is opened and closed.
And as always, Deb shares a beautifully finished inside.
This sheet of woodgrain paper with the red die cut heart ties in perfectly to the front.
Thank you so much, Deb, for this thoughtfully made card thanking those who serve their community in a time of natural disaster and such devastation.
Much appreciated!
_____
You can find Deb's post on her blog here.
Deb used:
Stamps: Pastor & Ministry Appreciation Greetings by Stamp Simply Clear Stamps
Pastor & Ministry Appreciation Scripture by Stamp Simply Clear Stamps
Dies: Farmhouse Signage by Stamp Simply Clear Stamps (small heart)
Spellbinders Classic Squares – Large, Small
Paper: Little Lumber Jack by Echo Park
Ribbon: May Arts 5/8″ Faux Canvas – Brown
Adhesives:  Tombow Mono-Multi Liquid Glue, 3D Foam Squares
_____
There are two sets in our Pastor & Ministry Appreciation series.
The first is the Greetings set and the second is the Scripture set.
Available individually or bundled.
These sets are wonderful to acknowledge and thank anyone who serves in any capacity at any time.
Farmhouse Signage by Stamp Simply Clear Stamps
Deb used the tiny heart from the die set on her card today.
These sets are part of our Farmhouse Series.
Available individually or bundled.
Find ALL Stamp Simply Clear Stamps here.
Little Lumber Jack by Echo Park
This popular pad has been out of stock for some time but MORE ARE ARRIVING today or tomorrow! YAY!!!
Find all paper pads in stock from Echo Park here.
Items available at The Stamp Simply Ribbon Store, as linked.
_____
WHAT ELSE IS GOING ON?
Enjoy the season – we have MUCH on sale right now.
Coupled with just $2.95 US shipping it's a great time to shop!
Based out of our rural Upper Michigan home we are open and SHIPPING DAILY.
_____
Here are a few recent releases to check out if you missed them.
This is our most recent Christmas release – Christmas Peace & Joy.
Use these interchangeable sets to create traditional Christmas projects with style and class!
_____
Here's our wreath release – Seasonal Wreaths – covering all seasons.
You'll love these sets to create welcoming cards year round!
_____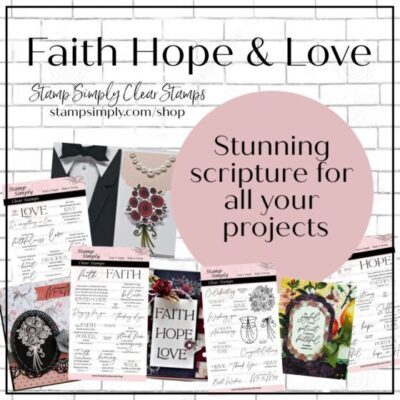 Our last scripture release – FAITH, HOPE & LOVE – is back and fully stocked!
These are beautifully scripted sets to send words of encouragement as well as wedding, anniversary and love themed cards.
_____
Shop our SALE BINS here for some unbelievable deals.
Find ALL Graphic 45 paper in stock here – 40% OFF! (excluding NEW)
MOST Kaisercraft papers  – 25% – 50%+ OFF!
Find ALL CHRISTMAS PAPER in stock here – 30%+ OFF! (excluding NEW)
Find ALL Tim Holtz DISTRESS Products in stock here – 25% – 50% OFF!
Find ALL Closeout Stamps here 50% OFF – including Altenew.
Find Spellbinders Die D-Lites here – 50% OFF – many as low as $5.00.
  All Spellbinders Products always reduced — find all Spellbinders dies here.
_____
We are pleased to offer our line of Stamp Simply Clear Stamps and Steel Dies,
many containing scripture and encouraging, uplifting Christian themes.
Find ALL Stamp Simply Clear Stamps/Dies here.
Find Christian/Scripture themed products here.
View items in our Love/Wedding category here.
View items in our Masculine category here.
View items in our Graduation category here.
View items in our Patriotic category here.
View items in our Autumn category here.
View items in our Christmas category here.
_____
If you are new to us, WELCOME! Here are some ways to keep in touch:
FIND US HERE
Follow us on PINTEREST for tons of inspiration!
Like us on FACEBOOK for the latest news!
Check us out on INSTAGRAM.
View our YouTube Channel here.

Sign up for our email NEWSLETTER published once or twice a month.
Subscribe to this blog using the Feedly, Bloglovin or Feedblitz links at the top left sidebar.
_____
Thanks so much for stopping in.
We'd LOVE to have you scroll down to see all the beautiful work by our very talented Design Team.
Wishing you a wonderful day!
_____
No responses yet