Oct 21 2020
Current US Shipping Special – $3.95 – $5.95 based on package weight
Good Wednesday morning! Jill is here today with a very quick and easy, clean and simple, flat for mailing card featuring a verse from scripture directing us to hold fast to our HOPE (faith), as He who has promised is faithful. The simplicity of Jill's card allows this beautiful verse from scripture to shine. Take a look:
The scripture from our HOPE stamp set was stamped directly onto the designer paper.
And note the bird – Jill took a 2nd sheet of the same paper and fussy cut the bird, then popped it atop the bird on the base sheet. What a simple and effective way to make a flat, simple card have just a bit of dimension.
That beautiful sheet of paper is from Wonderful Autumn by Studio Light.
Here's a closer look at the popped up bird.
It's such a lovely sheet of paper, even if you didn't want to make the bird dimensional it would still be an absolutely lovely card!
Thanks so much, Jill, for this lovely, lovely card.
Quick and easy doesn't get any better than this!
_____
You can find Jill's post on her blog here.
Jill used:
Stamps: HOPE by Stamp Simply Clear Stamps
Paper: Wonderful Autumn by Studio Light
_____
HOPE by Stamp Simply Clear Stamps
This set is one of four sets in our Faith, Hope & Love Series.
All sets in this series are filled with such beautifully scripted and encouraging words.
Find ALL Stamp Simply Clear Stamps/Dies here.
Wonderful Autumn by Studio Light
We couldn't be more in love with an autumn themed pad.
This is so very gorgeous, if pretty is your thing!
All items available at The Stamp Simply Ribbon Store, as linked.
_____
WHAT ELSE IS GOING ON?
Our current US SHIPPING SPECIAL:
US Shipping Based on Package Weight – $3.95 – $5.95
Packages ship daily out of our Upper Peninsula of Michigan home based business.
_____
Here are a few recent releases to check out if you missed them.
This is our most recent Christmas release – Christmas Peace & Joy.
Use these interchangeable sets to create traditional Christmas projects with style and class!
_____
Here's our wreath release – Seasonal Wreaths – covering all seasons.
You'll love these sets to create welcoming cards year round!
_____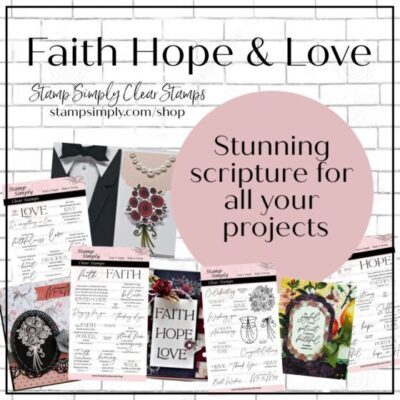 Our last scripture release – FAITH, HOPE & LOVE – is back and fully stocked!
These are beautifully scripted sets to send words of encouragement as well as wedding, anniversary and love themed cards.
_____
Shop our SALE BINS here for some unbelievable deals.
Find  ALL older Graphic 45 paper in stock here – 40% OFF! (excluding NEW)
MOST Kaisercraft papers  – 25% – 50%+ OFF!
Find ALL older CHRISTMAS PAPER in stock here – 30%+ OFF! (excluding NEW)
Find Tim Holtz DISTRESS Products in stock here – 25% – 50% OFF!
Find ALL Closeout Stamps here 50% OFF – including Altenew.
Find Spellbinders Die D-Lites here – 50% OFF – many as low as $5.00.
  All Spellbinders Products always reduced — find all Spellbinders dies here.
_____
We are pleased to offer our line of Stamp Simply Clear Stamps and Steel Dies,
many containing scripture and encouraging, uplifting Christian themes.
Find ALL Stamp Simply Clear Stamps/Dies here.
Find Christian/Scripture themed products here.
View items in our Autumn category here.
View items in our Christmas category here.
_____
If you are new to us, WELCOME! Here are some ways to keep in touch:
FIND US HERE
Follow us on PINTEREST for tons of inspiration!
Like us on FACEBOOK for the latest news!
Check us out on INSTAGRAM.
View our YouTube Channel here.

Sign up for our email NEWSLETTER published once or twice a month.
Subscribe to this blog using the Feedly, Bloglovin or Feedblitz links at the top left sidebar.
_____
Thanks so much for stopping in.
We'd LOVE to have you scroll down to see all the beautiful work by our very talented Design Team.
Wishing you a wonderful day!
_____
No responses yet