Nov 19 2020
(Current US Shipping Special - $3.95 – $5.95)
Welcome to Day 5 of Poinsettia Week here at Stamp Simply. Deb is here today with a very interesting tri-fold style card. Actually, it is a belly-banded tri-fold card with a peek through window and an optional inner gift card pocket. Pay attention when scanning the photos below to find all those elements! Super fun!!! Here we go:
Here is the card when folded flat, as received by the recipient.
The papers are stunning and they are all from the current Christmas pad by Graphic 45 – Christmas Time.
Note that the belly band is made from gorgeous paper strips cut from that pad, wrapped with burlap string.
The peek through feature is the circle cut into the card front to reveal the image/sentiment.
After removing the belly band and on first opening of the card, this is what you see. Gorgeous!
Both image and sentiment are from our Seasonal Wreath – Fall & Winter.
Deb colored her beautiful poinsettia with Copic markers.
Note how this white portion is actually a card within a card, opening backwards, and slightly smaller than the green base card. So fun!
Now, open up that 'backwards white card' and you can see that it is completed on both of the insides.
Deb used that same beautiful plaid paper and some of the many cut-out images contained within the same pad – Christmas Time by Graphic 45.
The Peace, Joy, Love cut-out is actually turned into a slot for a gift card! Can you see the semi-circle cut out, allowing you to easily insert the gift card?
You will also note that Deb stamped another sentiment on the white card inside – again from  our Seasonal Wreaths – Fall & Winter.
This view shows you how easy this card is to make – just make your 'white backwards' card a bit smaller than the green base card – decorate 3 sides of it – and adhere to the green card.
What a most interesting and clever card!
Thanks so much, Deb, for sharing it with us today.
I know this will get many heads buzzing and wanting to create!
_____
You can find Deb's post on her blog here.
Deb used:
Stamps: Seasonal Wreaths - Fall & Winter by Stamp Simply Clear Stamps
Dies: Spellbinders Standard Circles – Large, Small
Paper: Christmas Time 8×8 by Graphic 45
Ink: Memento – Rich Cocoa
Delicata– Golden Glitz
Ribbon: May Arts Burlap String - Red
Adhesives: Tombow Mono-Multi Liquid Glue
_____
These are both sets in our Seasonal Wreath release.
These interchangeable sets are available individually or bundled.
The lovely wreaths and florals with variety of sentiments will be sets you grab all year long!
Find ALL Stamp Simply Clear Stamps/Dies here.
Christmas Time 8×8 by Graphic 45
This is one gorgeous paper collection with a vintage Christmas theme.
The Chipboard Die Cut Tags and Ephemera Cards are in stock as well.
Find all items in stock by Graphic 45 here – OLDER ITEMS ON SALE!
May Arts Burlap String – Red (14) used today
And it is the season for burlap string!
Burlap string is a staple used year round, but come fall and winter its popularity soars.
It is available by the yard, spool or in a number of fun sampler packages.
Items available at The Stamp Simply Ribbon Store, as linked.
_____
WHAT ELSE IS GOING ON?
US Shipping Based on Package Weight – $3.95 – $5.95
It's a good time to stock up for the holidays, especially with so much on SALE right now!
_____
This is our current release – Typewritten Sentiments.
When looking for just the right words, this series has you covered.
_____
Here are a few recent releases to check out if you missed them.
This is our most recent Christmas release – Christmas Peace & Joy.
Use these interchangeable sets to create traditional Christmas projects with style and class!
_____
Here's our wreath release – Seasonal Wreaths – covering all seasons.
You'll love these sets to create welcoming cards year round!
_____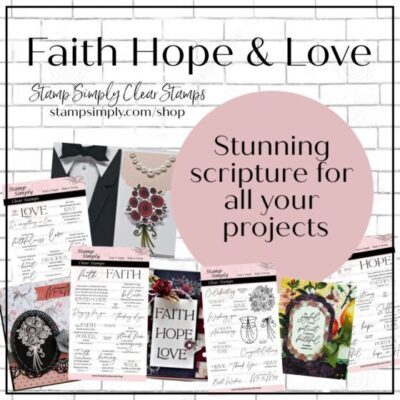 Our last scripture release – FAITH, HOPE & LOVE – is back and fully stocked!
These are beautifully scripted sets to send words of encouragement as well as wedding, anniversary and love themed cards.
_____
Shop our SALE BINS here for some unbelievable deals.
Find  ALL older Graphic 45 paper in stock here – 40% OFF! (excluding NEW)
MOST Kaisercraft papers  – 25% – 50%+ OFF!
Find all Christmas paper in stock here – paper from previous years REDUCED!
Find Tim Holtz DISTRESS Products in stock here – 25% – 50% OFF!
Find ALL Closeout Stamps here 50% OFF – including Altenew.
Find Spellbinders Die D-Lites here – 50% OFF – many as low as $5.00.
  All Spellbinders Products always reduced — find all Spellbinders dies here.
_____
We are pleased to offer our line of Stamp Simply Clear Stamps and Steel Dies,
many containing scripture and encouraging, uplifting Christian themes.
Find ALL Stamp Simply Clear Stamps/Dies here.
Find Christian/Scripture themed products here.
View items in our Autumn category here.
View items in our Christmas category here.
_____
If you are new to us, WELCOME! Here are some ways to keep in touch:
FIND US HERE
Follow us on PINTEREST for tons of inspiration!
Like us on FACEBOOK for the latest news!
Check us out on INSTAGRAM.
View our YouTube Channel here.

Sign up for our email NEWSLETTER published once or twice a month.
Subscribe to this blog using the Feedly, Bloglovin or Feedblitz links at the top left sidebar.
_____
Thanks so much for stopping in today!
We'd LOVE to have you scroll down to see all the beautiful work by our very talented Design Team.
Wishing you wonderful day!
_____
No responses yet