Apr 11 2021
Good Sunday morning!
Esther continues work on her paper bag journal and we have an entry to share today dealing with the meaning of true faith. This page has a few flaps that flip open to reveal more images and sentiments as well as pullouts from the pocket that contain her typewritten devotional/study. Take a look:
Esther used papers and ephemera journaling cards from the Bird Watcher collection by Graphic 45.
So many gorgeous images to choose from, both in the paper pad and on the ephemera cards!
I'm an old soul at heart and that blue and white ticking stripe just speaks to me.
Note how the image panels/cards are attached with washi tape, allowing them to easily swing open.
Here the bird image on the right is opened up to reveal another bird image and a verse from scripture.
Hebrews 11:1 was taken from our set called Faith.
This time the floral panel swings open to the left, revealing another bird image and scripture.
Matthew 25:23  is from our set called Pastor & Ministry Appreciation Scripture.
2 Corinthians 5:7 is again from our set called Faith.
Here's a wide view of both panels flipped open and all 3 stamped scripture verses visible.
And here you see Esther's typewritten devotional/study – the front is on the left and the back on the right.
This was inserted into the pocket created by the folded paper bag.
I love the bird theme of the papers combined with the theme of faith – a beautiful pairing!
Thank you so very much, Esther, for this lovely and so very worthwhile project!
And I urge you all to click into Esther's blog post to read her study in full.
_____
You can find Esther's post on her blog here.
Esther used:
Stamps: Faith by Stamp Simply Clear Stamps
Pastor & Ministry Appreciation Scripture by Stamp Simply Clear Stamps
Paper: Bird Watcher by Graphic 45 – 8×8 and Ephemera Cards used
Ink: VersaFine Clair – Nocturne
Adhesives: Tombow Mono-Multi Liquid Glue, EZ Runner
_____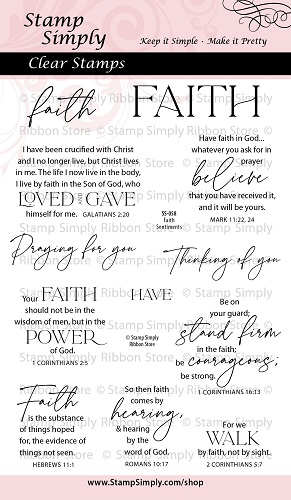 Faith by Stamp Simply Clear Stamps
There are 4 sets in our Faith, Hope & Love Series.
They all work together beautifully and are available individually or bundled.
There are 2 sets in our Pastor & Ministry Appreciation series.
The first is the Greetings set and the second is the Scripture set.
Available individually or bundled.
These sets are wonderful to acknowledge and thank anyone who serves in any capacity at any time.
Find ALL Stamp Simply Clear Stamps/Dies here.
Bird Watcher by Graphic 45
Beautiful birds and florals to welcome in spring and summer!
Chipboard Die Cut Tags and Ephemera Cards in stock as well.
Find ALL Graphic 45 in stock here.
All items available at The Stamp Simply Ribbon Store, as linked.
_____
Thanks so much for stopping in today!
Be sure to check back each day for more wonderful inspiration.
We'd LOVE to have you scroll down to see all the beautiful work by our very talented Design Team.
Have a Blessed Sunday!
_____
No responses yet